A HISTORY OF PUBLIC IMAGINATION: WHAT WILL YOU IMAGINE?
An introduction to New_ Public and what inspired the project by Civic Signals.​​​​​​​
NEW_ PUBLIC BUILDING BLOCKS
14 signals - measurable qualities - that contribute to flourishing digital spaces grouped into 4 building blocks.
Welcome is the foundational building block, home to four signals upon which all the other signals rest. The first responsibility of a digital space is to create an experience where people feel, at a bare minimum, welcome and safe.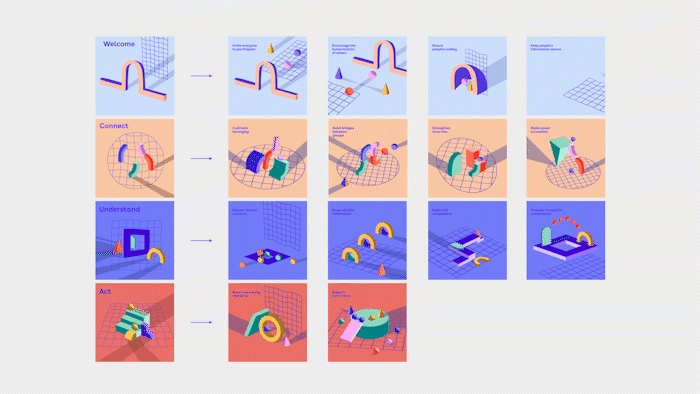 Connect, our second building block, focuses on the connections a digital space helps people form — with each other, with resources, and with power. Digital public spaces bring both people and resources together in ways that physical spaces often can't. But simply bringing things together isn't where the work of connection ends.
Important information about our world is increasingly communicated in digital spaces. It's crucial that those spaces help us make sense, together, of the world around us.
With the first three building blocks in place, Act, the fourth and final block will fall into place naturally. When a public space successfully welcomes and connects disparate groups, decentralizes resources, and facilitates access to power while promoting mutual understanding and empathy, we are inspired to take action — proactively and reactively.